Intelligent Inventory & Cost Control Helps Restaurants Enhance Competitive Edge
The growth momentum of the catering industry has not slowed down. In fact, competition is getting even more fierce. To enhance competitive edge, cost control somehow is crucial to restaurants and which is inseparable from effective inventory management. Restaurants going digital will use inventory & cost control system to help them manage food cost and inventory so that they will stay ahead of their peers.
However, it is not easy to manage food cost and inventory well in catering industry as it involves many variables and food preparation complexities. Fortunately, advanced inventory and food cost control system provides cloud and mobile tools to make things simple to solve pain points of the industry.
Mobile App Speeds Up Stock Take Process
Carrying out regular inventory check among daily hectic schedules in restaurants is stressful. Stock take app on mobile phone can ease the task. The mobility of smart phone enables staff to move around scanning barcodes of goods. As the phone is wirelessly connected to the Internet data scanned can be sent to restaurant's central back office immediately generating real time reports. It is a great convenience to monitor inventory level in restaurants.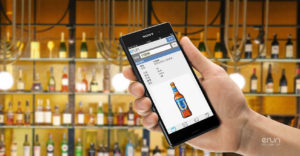 Cloud Stock Replenishment Ensures Sufficient Food Supply
Another mobile tool that make inventory control easy is when food inventory shortages are spotted after stocktaking, shop staff can use cloud back office on smart phone to send stock requests to management for approval of replenishment. Simply input the food materials that in need and send the request with a single click, they can easily ensure that there is always sufficient food supply in store.
Visual Reporting Spots Problems At A Glance
When information of purchase, usage and stock level of food materials is synchronized at back office system, the inventory & cost control system will then calculate food cost of every dish in details. Visual reports generated will enable restaurant management to know if food cost will exceed budget. As inventory & cost control system can reveal cost problem in logical manner which will help restaurant owners to know what immediate action can then be taken to adjust food menu that cut down food cost before it becomes out of control.
eRun's Inventory & Cost Control System for Catering Industry had won the Smart Business Solution for SME Gold Award in HKICT Awards 2018. The award recognized that eRun had provided a user-friendly solution to solve food cost problems bringing huge benefits for SMEs.
A proper inventory and food cost control system is essential to a successful restaurant operation which helps enhance its competitive edge.