Total Experience Strategy is an Emerging Trend for Enterprises
In the post-pandemic era, the consumer market is experiencing significant transformations.
Consumer acceptance and reliance on online shopping have witnessed a remarkable surge, resulting in unprecedented growth in the online retail sector. Alongside a preference for online and less face-to-face purchasing, consumers now have elevated expectations for products and services. They also seek greater discounts and membership benefits across various channels. As a result, merchants are swiftly crafting their marketing strategies to embrace the evolution towards omni-channel retailing.
"Cloud office" became widely adopted by smart businesses during the pandemic. Today, this model continues to effectively meet the needs of corporate employees seeking a highly flexible work environment in special circumstances and changing weather conditions. Market changes have caused many companies to experience talent loss, leading to staffing shortages and presenting both new challenges and opportunities for corporates.
Amidst the changing market dynamics in the post-pandemic era, numerous companies, especially those operating in the highly competitive Greater Bay Area market, are actively exploring the implementation of a total experience strategy. This strategic approach prioritizes the enhancement of experiences for customers, employees, users, and other stakeholders simultaneously.
eRun Retail Management System is a comprehensive solution designed to deliver a total experience. The system's exceptional flexibility, affordability, and scalability led it to be awarded the prestigious Gold Award in the 2023 HKICT Smart Business Solution category for Small and Medium Enterprises.
Our main goal in developing this solution was to improve workflow, communication, and interaction across all channels and operations, while keeping it affordable for small and medium-sized enterprises. By leveraging eRun, customers can elevate their shopping experience, while corporate employees can streamline repetitive tasks and dedicate more time to essential business activities. These capabilities play a vital role in brand building and ultimately enhance business profitability.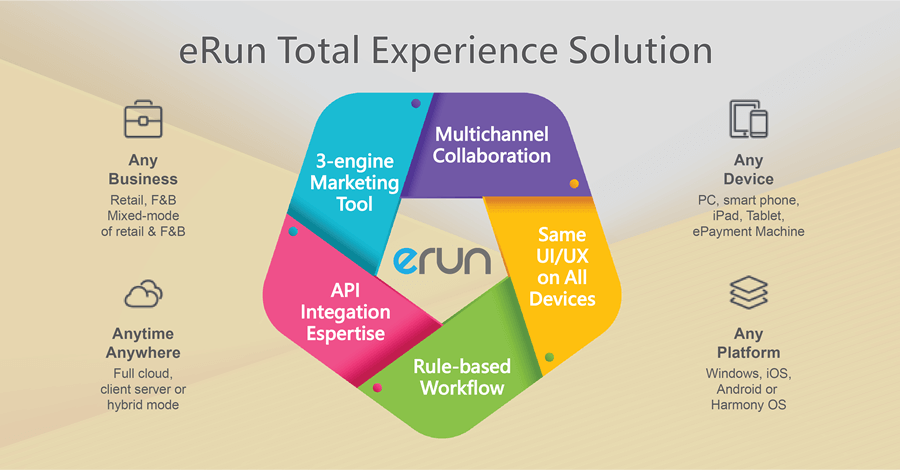 The total experience retail system provided by eRun exhibits the following characteristics :
Multi-channel sales maximize the total experience
Expanding business through multiple channels allows companies to reach a wider range of customers, drive sales, and facilitate multi-channel interaction between enterprises and customers. This approach enables the provision of high-quality experiences to customers, employees, and users in the digitally-driven market, leading to long-term success.
Consistent UI across all devices
The system maintains a uniform UI across all devices, whether used by customers or employees. Enterprises can leverage this feature to flexibly deploy or utilize existing hardware, resulting in cost savings and improved employee efficiency. Additionally, it enables the optimization of customer self-service experiences.
Suitable for all types of retail businesses
The system is highly adaptable and caters to different types of businesses, including retail, F&B, and mixed models combining both retail and F&B. It effectively handles multi-modular operations and facilitates seamless membership services for customers. Corporate management benefits from easy access to business data, minimizing redundant employee tasks, and striving to optimize the overall employee experience.
Cloud office enables continuous online work
The system can operate in full cloud, local, or hybrid configurations, providing corporate management and employees in Hong Kong or mainland cities with anytime, anywhere access to log in to the system.
Extensive expertise in API integration and implementation
The system offers a wide range of comprehensive API functions, allowing seamless integration with various third-party applications such as payment gateways, ERP systems, and delivery platforms. This enables businesses to expand their sales channels while delivering a convenient consumer experience to customers.
In addition, the system empowers small and medium-sized enterprises with real time data for effective decision making. It is compatible with various platforms including Windows, iOS, Android, and Huawei's Harmony OS. Additionally, the system's intuitive user interface minimizes churn rate by enabling senior front end employees to efficiently operate the system with minimal training.
Adopting eRun's total experience retail system empowers small and medium-sized enterprises to effortlessly create a seamless, high-quality experience for customers, corporate employees, management and business owners. This system extends across regions, multiple platforms, and diverse channels, equipping businesses to effectively navigate the challenges of the post-pandemic era and sustain a long-term competitive advantage in the market.